DAF respects your privacy. We use cookies for a variety of purposes, such as website functionality, improving your experience of our website, building integration with social media and helping target marketing activities within and beyond our website. By continuing your visit on our website, you are consenting to our use of cookies. However, if you want to customize your cookie preferences, click on 'Change settings' below. You can withdraw your consent at any time. For more information, please visit our Cookie Notice.
CHASSIS- AND DETAIL DRAWINGS ARCHIVE
All vehicles series
The chassis drawings archive is intended to search for drawings of vehicles that are out of production. By selecting a release date in the filter menu it is possible to find a drawing of the vehicle at the time it was built. Also earlier drawing revisions of recent vehicles can be found here.
Chassis layout drawings can be found using the filter function below and are available in PDF-format and or zipped DXF-files.The chassis drawings in .PDF-format enable measuring of distances and adding notes in the standard Adobe Reader Viewer application.
Detail drawings, which are referenced in a table on the chassis drawing, can be looked up via the 'Search on drawing number'button.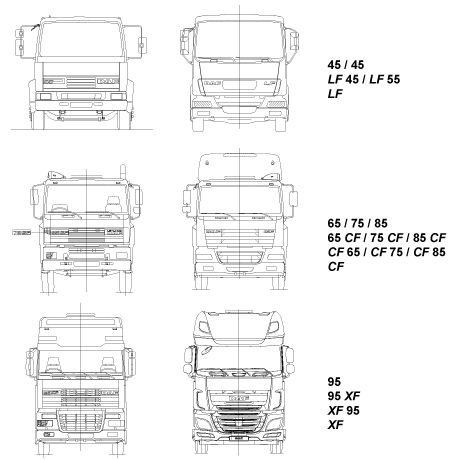 Axle Configuration
Description
Drawing Number
PDF / DXF
65CF, 75CF, 85CF, Detail drawing, 1999 wk 45, Electric diagram (supplement sheet)

65CF, 75CF, 85CF, Detail drawing, 2000 wk 17, Electric diagram (supplement sheet)

65CF, 75CF, 85CF, Detail drawing, Susp. leaf-leaf, 2002 wk 17, Electric diagram (supplement sheet)

95, Rigid, Susp. leaf-air, 1991 wk25, LHD

75, 85, Tractor, Susp. leaf-leaf, 1996 wk45

75, 85, Tractor, Susp. leaf-air, 1996 wk45

75, 85, Tractor, Susp. leaf-leaf, 1996 wk45

75, 85, Tractor, Susp. leaf-air, 1996 wk45

75, 85, Tractor, Susp. leaf-leaf, 1996 wk45

75, 85, Tractor, Susp. leaf-air, 1997 wk25

85, Tractor, Susp. leaf-air, 1996 wk01, LHD

85, Tractor, Susp. leaf-air, 1996 wk01, RHD

75, Rigid, Susp. leaf-leaf, 1996 wk01, LHD "D"

75, Rigid, Susp. leaf-air, 1996 wk01, LHD "D"

75, 85, Rigid, Susp. leaf-leaf, 1996 wk49, LHD

75, 85, Rigid, Susp. leaf-air, 1996 wk01, LHD

75, 85, Rigid, Susp. leaf-leaf, 1996 wk01, LHD

75, 85, Rigid, Susp. leaf-air, 1996 wk01, LHD

75, 85, Rigid, Susp. leaf-leaf, 1996 wk01, LHD

75, 85, Rigid, Susp. leaf-air, 1996 wk01, LHD