DAF respects your privacy. We use cookies for a variety of purposes, such as website functionality, improving your experience of our website, building integration with social media and helping target marketing activities within and beyond our website. By continuing your visit on our website, you are consenting to our use of cookies. However, if you want to customize your cookie preferences, click on 'Change settings' below. You can withdraw your consent at any time. For more information, please visit our Cookie Notice.
CHASSIS- AND DETAIL DRAWINGS EURO 5-6 MY2017
LF-CF-XF
Chassis layout drawings can be found using the filter function below and are available in PDF-format and as zipped DXF-files.The chassis drawings in .PDF-format enable measuring of distances and adding notes in the standard Adobe Reader Viewer.
Detail drawings, which are referenced in tables on the chassis drawings, can be looked up via the 'Drawing number' search box.
Note: DAF Trucks is introducing Euro 5 engines in the model year 2017 vehicle series. If drawings are country or market specific this is mentioned in the Description field.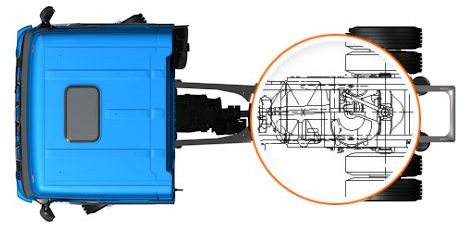 Axle Configuration
Description
Drawing Number
PDF / DXF
XF, Detail drawing, Detail XF Cabine 2500 MM (Taiwan - Australia)

XF, Detail drawing, Detail XF Cabine 2500 MM (Taiwan - Australia)

XF, Detail drawing, Detail XF Cabine 2500 MM (Taiwan - Australia)

XF, Detail drawing, Detail XF Cabine 2500 MM (Taiwan - Australia)

CF, Detail drawing, Detail CF Cabine 2500 MM (Taiwan - Australia)

CF, Detail drawing, Detail CF Cabine 2500 MM (Taiwan - Australia)

CF, Detail drawing, Detail CF Cabine 2500 MM (Taiwan - Australia)

CF, Detail drawing, Detail CF Cabine 2500 MM (Taiwan - Australia)

CF, Detail drawing, Detail CF Cabine 2500 MM (Taiwan - Australia)

CF, Detail drawing, Detail CF Cabine 2500 MM (Taiwan - Australia)

CF, Detail drawing, Detail CF Cabine 2500 MM (Taiwan - Australia)

CF, Detail drawing, Detail CF Cabine 2500 MM (Taiwan - Australia)

XF, Detail drawing, Detail XF Cabine 2500 MM TOP-FRONT-LEFT (Taiwan - Australia)

CF, Detail drawing, Detail CF Cabine 2500 MM TOP-FRONT-LEFT (Taiwan - Australia)

CF, Detail drawing, Detail CF Cabine 2500 MM TOP-FRONT-LEFT (Taiwan - Australia)

CF, XF, Detail drawing, Suspensions Rear CF / XF

CF, XF, Detail drawing, Tyres and Wheels CF / XF

CF, Tractor, General, Susp. leaf-air, MX-13, Exh. LHS, Batt. hor. on chassis, AdBlue on mudguard, Fuel tank Right, Standard comp. layout, Single reduction axle, LHD steering, TAIWAN, no Spare wheel carrier

CF, Detail drawing, Vehicle Heights CF - FT TAIWAN, AUSTRALIA

CF, Detail drawing, Vehicle Heights CF - FTG TAIWAN