DAF respects your privacy. We use cookies for a variety of purposes, such as website functionality, improving your experience of our website, building integration with social media and helping target marketing activities within and beyond our website. By continuing your visit on our website, you are consenting to our use of cookies. However, if you want to customize your cookie preferences, click on 'Change settings' below. You can withdraw your consent at any time. For more information, please visit our Cookie Notice.
BODYBUILDER GUIDELINES MY2005
LF45-LF55-LF55-CF65-CF75-CF85-XF105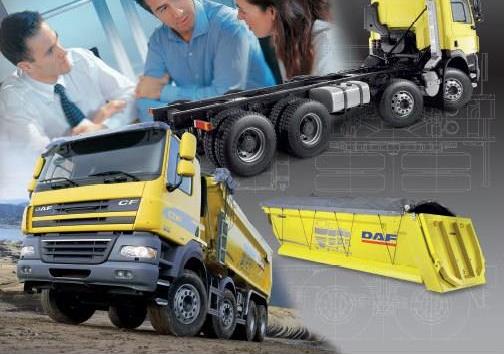 The purpose of these guidelines is to give the bodybuilder advice and assistance to enable him to obtain a homogeneous and optimally functioning assembly of superstructure and DAF chassis. The final revision (week 22-2012) can be downloaded as a PDF-document below.
BodyBuilder Guidlines Archive


Earlier revisions of the MY2005 bodybuilder guidelines can be found here. The file numbering e.g. "BBG0719" must be read as indication for the year (2007) and week (wk 19) of publication.
| | | | |
| --- | --- | --- | --- |
| Date | Emission class | Production date | PDF |
| 2012 wk 22 | Euro 3-4-5 | wk 22 2012 - Current | BBG1222EN.pdf |
| 2011 wk 22 | Euro 3-4-5 | wk 22 2011 - wk 21 2012 | BBG1122EN.pdf |
| 2010 wk 19 | Euro 3-4-5 | wk 19 2010 - wk 21 2011 | BBG1019EN.pdf |
| 2010 wk 04 | Euro 3-4-5 | wk 04 2010 - wk 18 2010 | BBG1004EN.pdf |
| 2009 wk 19 | Euro 3-4-5 | wk 19 2009 - wk 03 2010 | BBG0919EN.pdf |
| 2008 wk 49 | Euro 3-4-5 | wk 49 2008 - wk 18 2009 | BBG0849EN.pdf |
| 2008 wk 13 | Euro 3-4-5 | wk 13 2008 - wk 48 2008 | BBG0813EN.pdf |
| 2007 wk 51 | Euro 3-4-5 | wk 51 2007 - wk 12 2008 | BBG0751EN.pdf |
| 2007 wk 19 | Euro 3-4-5 | wk 19 2007 - wk 50 2007 | BBG0719EN.pdf |
| 2006 wk 33 | Euro 4-5 | wk 33 2006 - wk 18 2007 | |
| 2006 wk 27 | Euro 4-5 | wk 27 2006 - wk 32 2006 | |
| 2006 wk 21 | Euro 4-5 | wk 21 2006 - wk 26 2006 | |
| 2006 wk 11 | Euro 4-5 | wk11 2006 - wk 20 2006 | |
| 2005 wk 41 | Euro 0 - Euro 3 | till wk 50 2007 | |